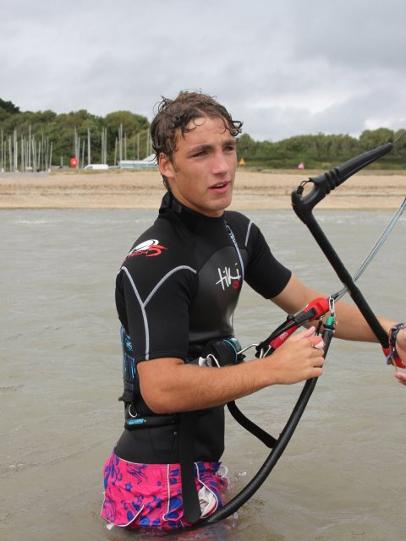 George Dufty
Date of Birth: 04 August 1996
Age: 20
Lives: Southampton, Hampshire.
Started Kiting: 2009
Sponsors: Liquid Force, (http://www.liquidforcekites.com) Hampshire Kitesurfing Centre (http://www.hampshirekitesurfing.com) and Tiki Wetsuits (http://www.tikisurf.co.uk).
Competes: BKSA, 2011, 2012 and 2013 schedule and the 2012 & 2013 EJKC, France. In 2013 I competed in the BKSA Pro events, the EJKC in France, The KTE in France, Germany, Holland and Spain along with a few PKRA events that are held in Europe. In 2013 I won the BKSA Pro Freestlye Championship becoming the youngest Pro winner.
In 2014 and 2015 I competed in the BKSA Pro events, the EJKC in France and the two VKWC events in Europe.
In 2016 I competed on the BKC / BKSA Pro event winning the title again becoming only the third rider to hold the title for a second time. In 2016 the EJKC in France was adopted as a "junior" Under 20 World Title event which I finished 5th at.
In 2017 I will be seeking to defend my British Pro Mens Freestyle title and become the first person to hold the title three times. See my results on my calendar page.
Local Kitesurf beach: Hill Head, Hampshire.
Favourite Kitesurf beach UK: Hunstanton. Abroad : Gokova, Turkey, Big Bay Cape Town and Safety Bay in Australia.
Kitesurfing Style: Freestyle
Kit:
In 2013 I was flying Liquid Force HiFi-X kites and riding either a 138 Influence LFX board with comp straps or a 139 Element either with comp straps or with Vantage bindings.
I continue to fly Liquid Force HiFi-X kites in the mark 2 design and riding a the 139 Element with Synergy or LFK bindings.
"I started kiting when I was 13 years old at first with traction kites on a land board. A kitesurfing lesson with Ross Blainey at the *Hampshire Kitesurfing Centre in August 2009 got me hooked on kitesurfing. (*See the link above)
In 2010 a clinic with Sam Light, the then reigning 2009 BKSA Pro Champion, saw my riding advance dramatically and was a catalyst for sponsorship with Airtime kitesurfing in Lee on Solent landing a deal to ride Liquid Force kit.
In March 2013 I was promoted to the Liquid Force Kiteboarding International team and was stoked about that.
I am continuing to build up a photo and video portfolio and I am hoping to get articles published in the various Kitesurfing magazines and e-zines and promote the Liquid Force, Hampshire Kitesurfing Centre and Tiki brands.
George
In 2012 I was signed up as a UK Team rider for
Liquid Force. In 2013 I joined the Liquid Force International Support Team and use L
iquid Force equipment
exclusively
.
Here is a link to their website:

I am also associated with Hampshire Kitesurfing Centre. The centre which is based near Gosport in Hampshire offer lessons, coaching sessions and equipment. Here is a link to their website:




I am very pleased to be sponsored by Tiki Wetsuits who provide me with my summer and winter suits. I use their 2014 Zepha suits.
In the winter I can stay out on the water much longer and fend off the cold.
Here is a link to their website: